Last November, The Global College hosted its first Student Government Elections, with the opportunity to run for different roles including the Head Student, Deputy Head Student and Officers for Wellbeing, Boarding, Marketing, Social Activities, Sustainability, Charities, among others. Those running for the Head Student gave a speech to their classmates and teachers before the elections took place.
By being part of the Student Government, students are able to learn about different areas, lead initiatives in the school, and develop their leadership, teamwork, organization, and public speaking skills. 
Student Government Proposals
The Head Girl's proposals include creating a leadership program to provide support and confidence to next year's incoming students, creating a closer bond between both grades. A student suggestions box is also part of the project, so all students can have a voice.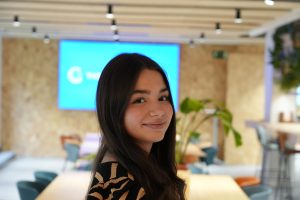 The Deputy Head Student and Chair of the Student Council, stated "I strive to make others feel like they are being listened to," highlighting the importance of listening to the student body at TGC. This way, students will make their experience more fulfilling.
Promoting school spirit and stronger connections with one another are the priorities for social activities, as well as building a united community and making students more aware of the importance of networking. The Sustainability and Charities Officers will be working on initiatives to create a positive impact in school and help those in need. Recently, the proceeds of the Valentines Day sales where donated to the Turkish Embassy to support those affected by the earthquake.
When it comes to representing the school more creatively, the Marketing and Social Media Officer will be in charge, counting with previous experience in the field. The proposal is to highlight the diversity, tech-oriented focus, and entrepreneurial mindset at The Global College, for families to have a better insight into the daily activities on students and events happening on-campus.
Benefits of being part of The Student Government
Being part of the Student Government helps students foster multiple skills that will be useful in their future, not only for the university but for their careers. By working on their creativity, having the possibility to make their projects a reality, and working with others to achieve their goals, students will begin creating a set of skills to build upon in their next steps.
We look forward to hearing about their innovative initiatives and seeing them in action! Congratulations to all the students elected and all of those who participated for their great campaigns.